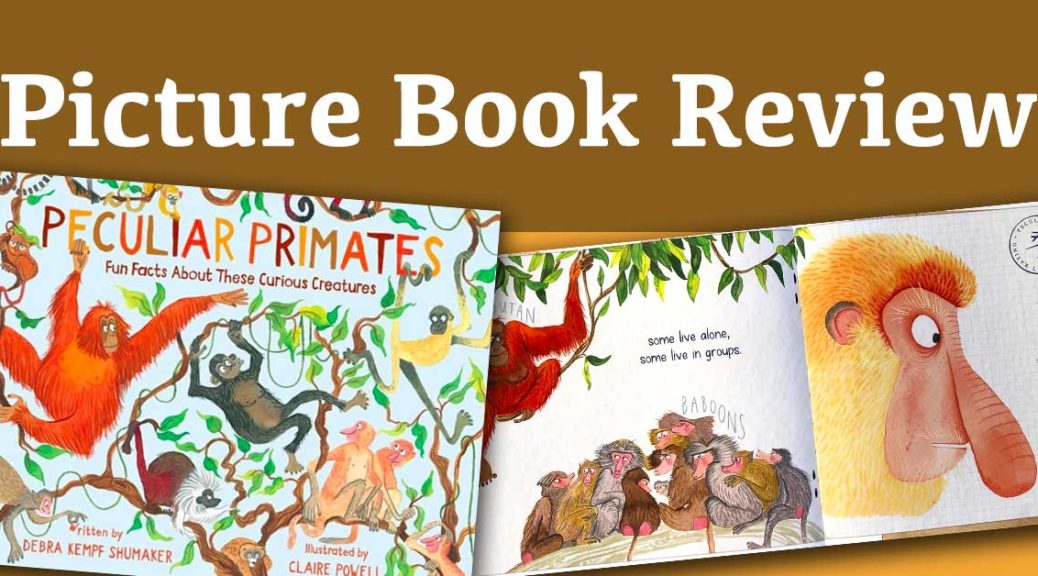 Swing Into An Exciting Expedition In 'Peculiar Primates'
Swing Into An Exciting Expedition In 'Peculiar Primates'
Peculiar Primates: Fun Facts About These Curious Creatures
Author: Debra Kempf Shumaker
Illustrator: Claire Powell
Publisher: Running Press Kids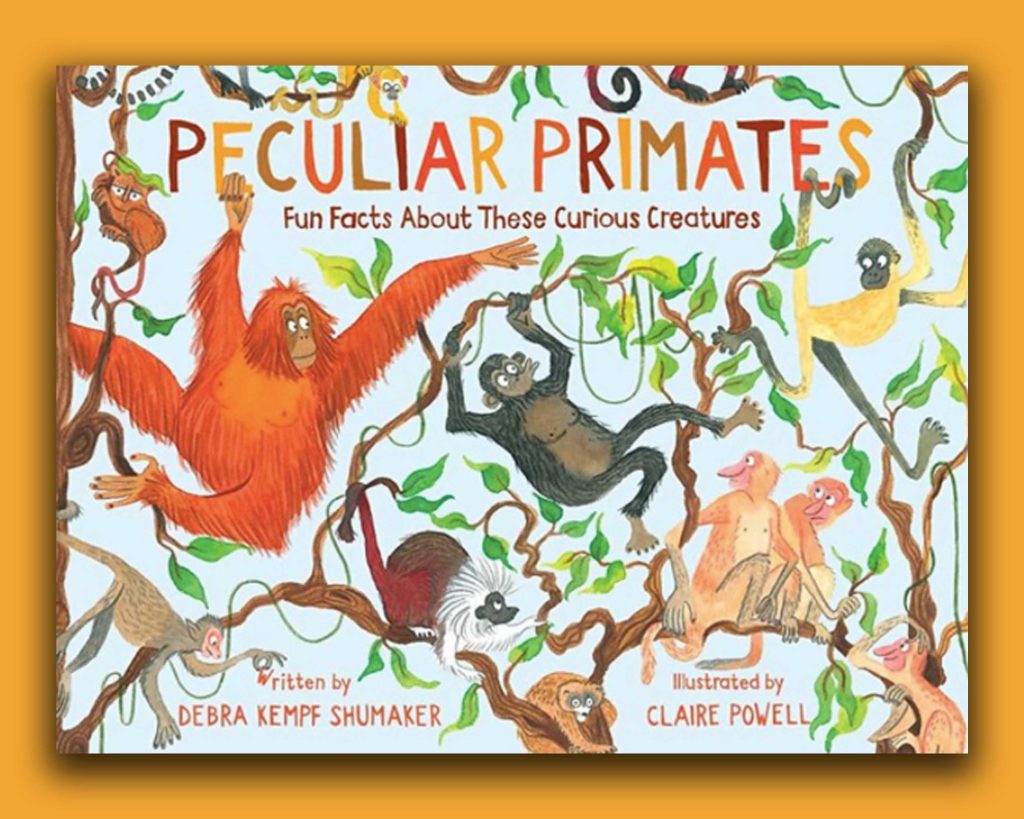 A Field Study on Primates
Pack your passport! 'Peculiar Primates: Fun Facts About These Curious Creatures' will take you on a field study across the globe to find out what sets each species apart. While all primates have brains, hands, and hair, they have so many other differences.
Some primates build a nest each night, while others sleep with tails twined tight. Peculiar looks, odd things they do. Some primates can be strange, it's true.

Peculiar Primates: Fun Facts About These Curious Creatures by Debra Kempf Shumaker and Claire Powell
Readers will learn that the Emperor Tamarin has a furry moustache, the Bald Uakari has a bright red face, and the Japanese Macaque likes to soak in hot springs.
'Peculiar Primates' will take you and your child on an exciting expedition while learning dozens of interesting facts about these unique mammals. They may even be surprised to learn what we, humans, have in common with our primate relatives!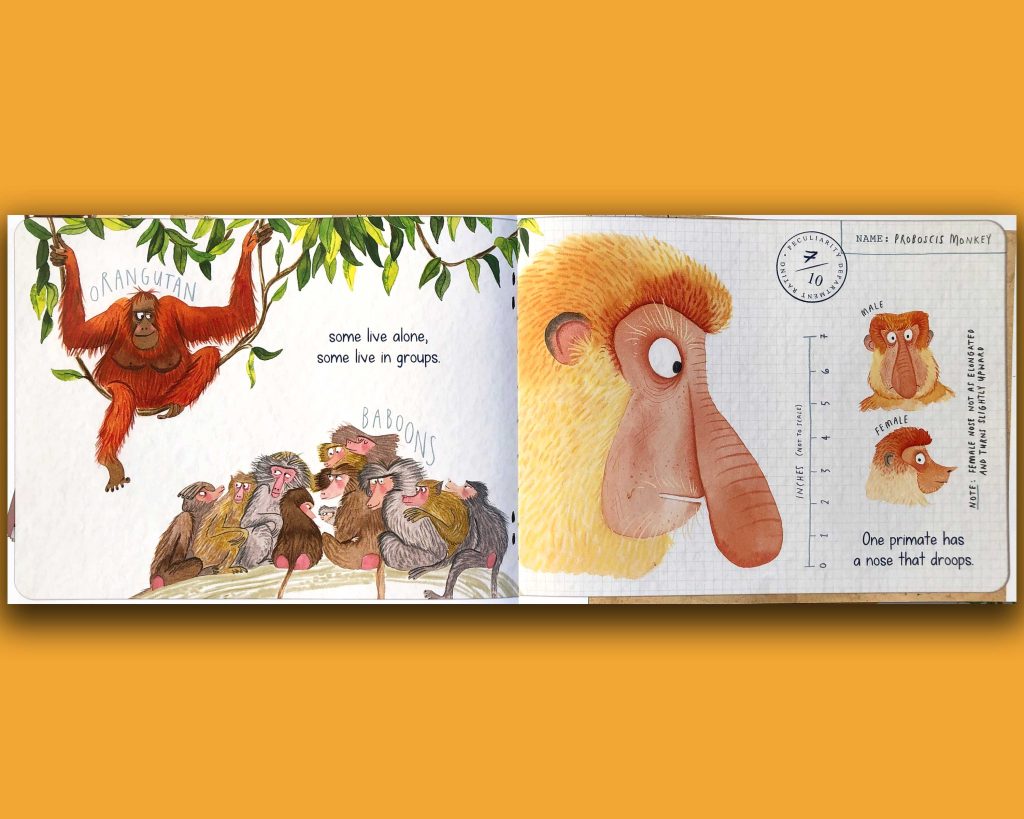 Silly Science That's Kid-Friendly
Children who like to memorize the names of dinosaurs and construction vehicles will delight in the details that fill this picture book. Jam-packed with facts, Debra Kempf Shumaker's rhyming story is factual but just playful and silly enough to entice young readers and hold their attention.
Colourful, Playful STEM Learning
True to life without being overly detailed and overwhelming, Claire Powell's illustrations strike a perfect balance for young readers getting to know the various species of primates. The playful and colourful images make this STEM-learning book incredibly interesting and accessible for children. Not only that, but the primates are thoughtfully labelled throughout the pages and recapped at the end of the book, making this a great educational resource.
Powell's scrapbook-style illustrations are also a beautiful and creative touch. The pages feature passport stamps, pinned photographs, and hand-written notes, really giving this book a unique feel. Just like you're part of a field study on primates!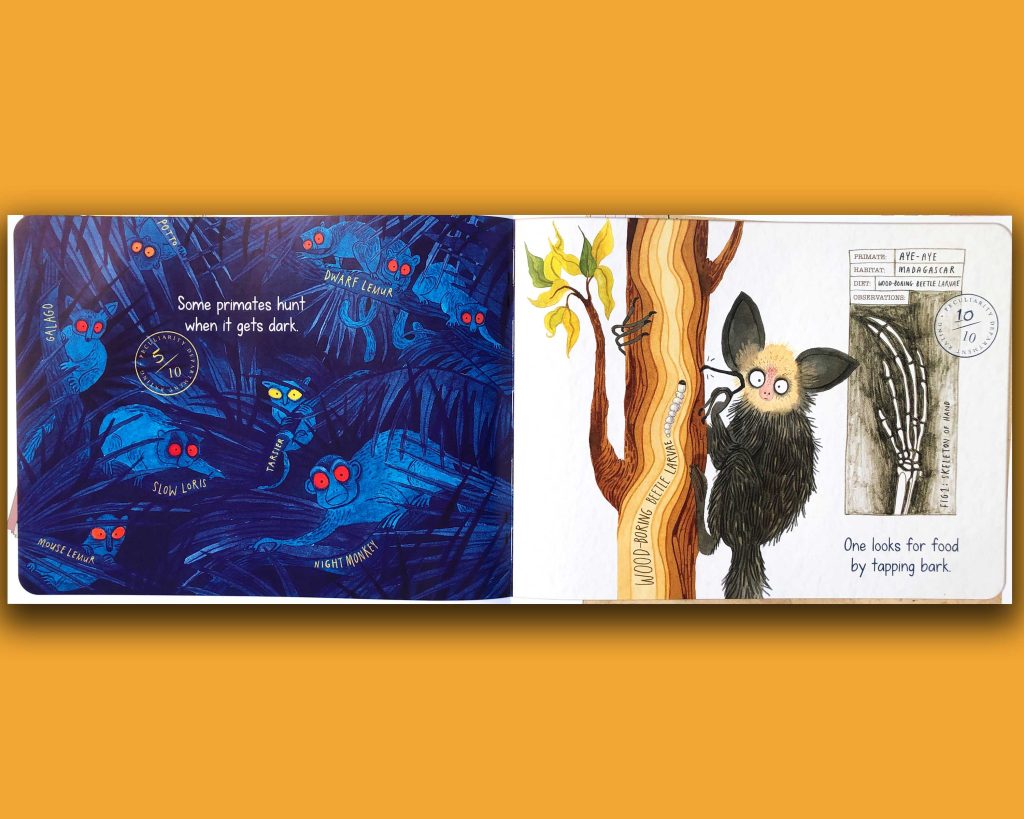 Final Thoughts
'Peculiar Primates: Fun Facts About These Curious Creatures' will have you packing your bags for a fascinating field study into a world of baboons, tamarins, and gorillas. Young readers will delight in the rhyming story while learning about the features and habits of these unique mammals. A fantastic STEM-based book to add to your little scientist's shelf!
Peculiar Primates is available now for pre-order ahead of its release on October 11, 2022.
This post contains affiliate links. I may earn a small commission if you choose to make a purchase.