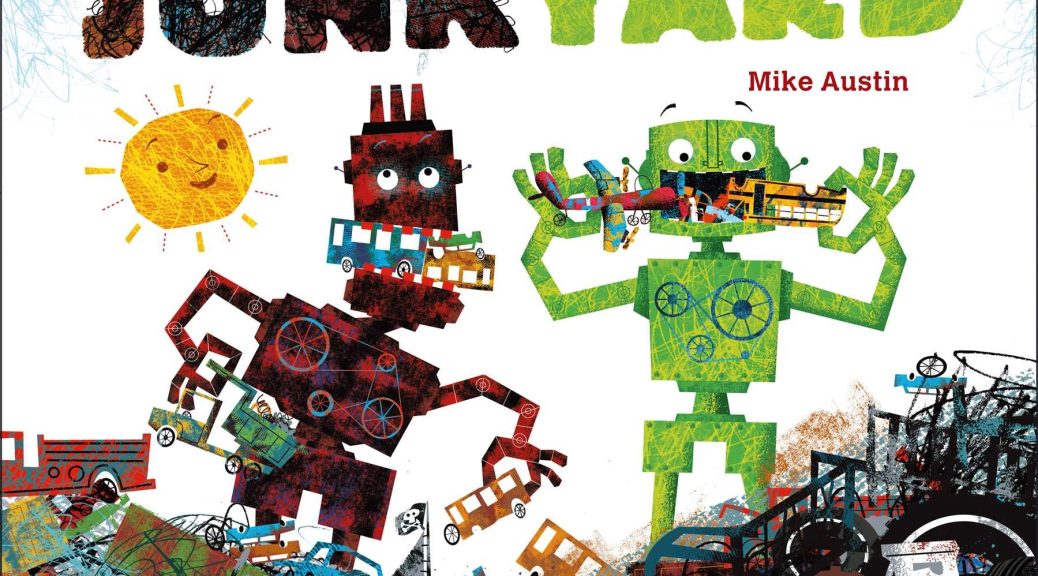 Recycling Robots Munch Trash in 'Junkyard'
Recycling Robots Munch Trash in 'Junkyard'
Author: Mike Austin | Themes: junk, waste, robots, land reclamation, recycling, environmentalism, earth day
No Room For Trees – Yet
Piles and piles of junk and toxic waste are no match for the Munching Machines in Mike Austin's Junkyard! Two goofy robots work together to clear a landfill of old boxcars, buses, and boats to make way for flowers and fun. Come along with the Munching Machines as they eat, sort, and sweep their way to a beautiful green space!
"A yard full of junk! Piles of junk! Junk as far as the eye can see – not even room for one little tree."

Junk Yard by Mike Austin
Unique Illustrations on Every Page
I just love the illustrations in this book. Each page is filled with these unique scribbled and layered illustrations of trash heaps that the Munching Machines work to devour. My toddler really enjoyed examining every page to point out the objects named in the text such as bed frames, toilets, and buses.
The two robots were also a hit with their goofy facial expressions as they stuff piles of waste into their mouths. My toddler thought it was so funny when they were slurping down the tankers of used fish oil and eating the train car like a cob of corn!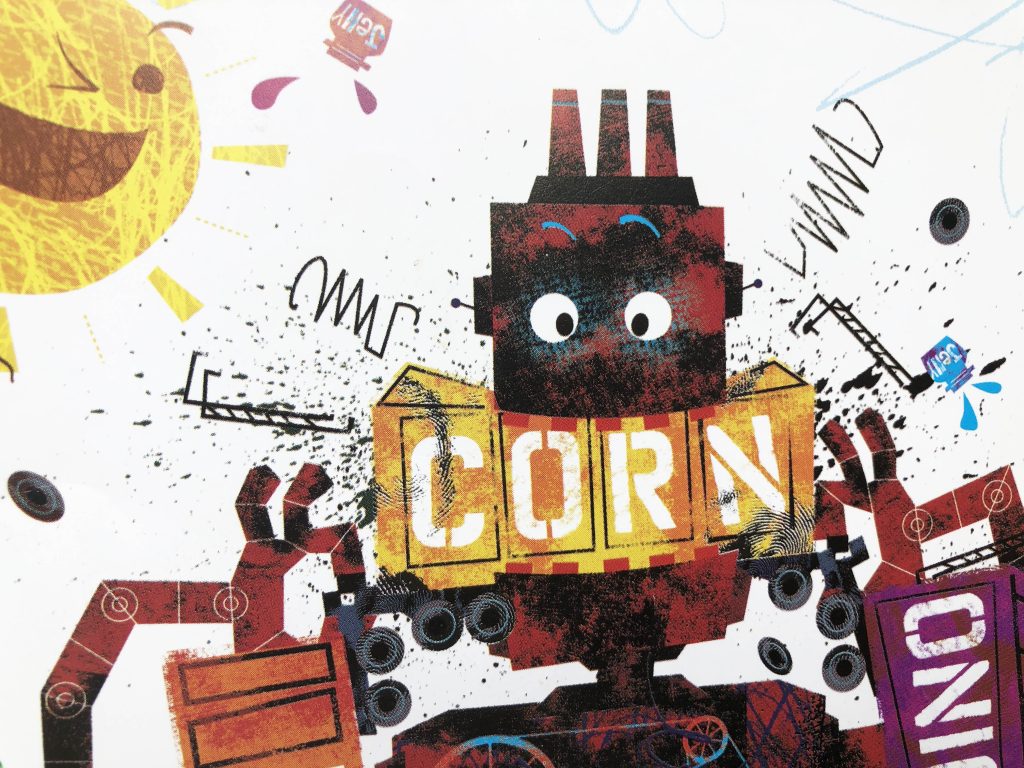 Recycling and Caring for the Environment
While on its surface it feels like a light-hearted read, this story has a great message about recycling and the importance of taking care of our environment. The robots clean up, get rid of all the waste and begin planting flowers and trees.
"Horray! All clean! It's time for something new! The Munching Machines know just what to do."

Junk Yard by Mike Austin
They create a beautiful park with rolling hills and a lake and install playgrounds and walking trails. This is definitely a great way to introduce earth stewardship and environmentalism to very young children.
Final Thoughts
Overall, we loved this book. The story and illustrations are really great. Grab a copy, roll up your sleeves and get to work cleaning up the Junkyard. Your kids are going to love this fun, recycling project.
More Reviews
If your little one is into construction vehicles, check out my review of Thunder Trucks.
This article contains affiliate links and I may earn a small commission if you order from the links. As always, opinions are my own.