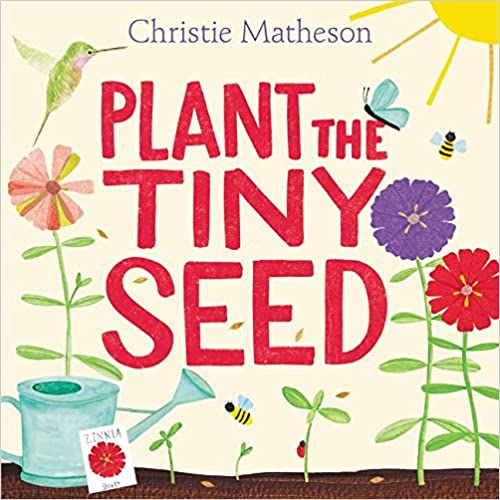 Beauty Blooms in 'Plant The Tiny Seed'
Beauty Blooms in 'Plant The Tiny Seed'
Author: Christie Matheson | Themes: seeds, planting, gardening, flowers, spring
A Hands-On Gardening Experience
Magic can be found everywhere, even in the smallest speck and with some love and care, beauty blooms in Christie Matheson's Plant the Tiny Seed. In this book little ones get hands on with the interactive text by pressing down on the seeds, tapping the clouds for rain, and shaking the flowers to help scatter the seeds.
"Plant another, then one more. Press them down and count to four."

Plant The Tiny Seed by Christie Matheson
Push, Shake, Shoo
The book starts with asking the reader to firmly press some seeds into the ground, before adding some rain, sunlight, and pollinators. My toddler particularly liked the page where he needed to shoo away the pesky snails.
In the end, the zinnias bloom with the readers being asked to put their hands in the air and sway just like the tall flowers.
I really like these interactive-style books because I find they hold my toddler's attention really well. Each page has a different action for him to act out so it gives him something new to focus on.
"The purple flower needs a clip. Swipe across the stem – snip, snip!"

Plant The Tiny Seed by Christie Matheson
The bright and beautiful watercolour illustrations are done in a collage style and very fitting for a book about spring and blooming. I incorporated this book with a 'flower gardening' themed sensory table for my toddler and we were able to talk about the stages of plant life cycles as well.
Final Thoughts
'Plant The Tiny Seed' is a fun, interactive read that's sure to hold your child's attention. This makes a great addition to the bookshelf if you're looking for something spring, gardening, or STEM-based.
More Books Reviews
If you trash-eating robots sound cool, have a look at my review for 'Junkyard'.
This post contains affiliate links. I may earn a small commission if you make a purchase. As always, opinions are my own.